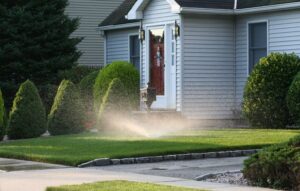 The summer season means kids are home from school, more guests are over for cookouts and parties, and water is relied on heavily during the hottest time of the year. As the season change, so does how you use your plumbing. Summer brings a unique set of plumbing problems you must prepare for and resolve quickly.
Here are a few common summer plumbing issues to watch out for this year!
Sprinkler Issues
In-ground sprinkler systems are especially vulnerable during summer. The increased foot traffic on your lawn threatens your sprinkler heads. A misplaced foot could crack the head and cause a leak. A leaking sprinkler is often hard to detect because sprinkler heads are designed to spray water, but the problem will eventually become evident on your water bill. Leaking sprinklers will increase your water usage and raise your utility bill.
Washing Machine Maintenance
All the summer activities can put a strain on your washing machine. Heavy loads seem to be a normal occurrence in summer, which can lead to blockages and overflows. Try to stick to small loads to avoid problems. Regularly check the hoses from your machine for leakages or kinks, and consider moving your washing machine out from the wall a little to reduce the risk of overheating.
Slow Draining Showers
If you are taking several trips to the beach this summer, be sure to rinse off before hopping into the shower. Sand, dirt, and tiny bits of beach debris are common culprits of slow draining showers. However, if your shower drains slowly, don't reach for chemical drain cleaners as they only delay the problem and increase the wear on your pipes. Instead, try to snake your drain or call a professional!
At Inland Empire Leak Detection, we are only a call away from assisting you with your summer plumbing troubles. From concrete slab repairs to emergency leak repair services, we have the expertise and tools to help you with your leak issue from start to finish!
Contact us today at (951)442-5339 to set up a free leak inspection or learn more about our services.