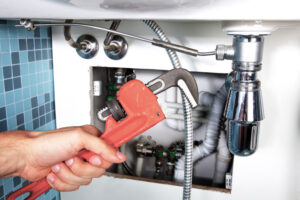 If your pipes are old, deteriorating, and causing issues with your plumbing, then repiping is not something you should put off or avoid. As soon as you begin to notice signs that your pipes should be replaced, you should call a repipe plumbing specialist before the damage gets worse.
Replacing all or some of the pipes in your home is a big project though, so it's natural that you might be worried about the process. Let's go over what you can expect during your home's repiping, so you can feel better prepared and at greater ease.
Your repiping specialist will start with an inspection and estimate.
Before they can get to work on your pipes, your plumber needs to know what they're dealing with. At Inland Empire Leak Detection, we use non-invasive methods to identify problem pipes. Your specialist will determine which sections need repiping, how much pipe will be needed, and estimate the cost of the project. They will also discuss material options (copper, plastic, etc.) for new pipes with you.
Sections of drywall or ceiling will need to be removed.
In order to access the pipes that need replacing, your plumbers will need to cut into sections of your wall and possibly ceiling. You will need to clear out furniture and other items from these areas to prevent them from getting damaged. This will also provide your specialists with the space they need to work and put protective equipment in place.
Your water will be shut off temporarily.
During major plumbing work, your water cannot be running. For repiping, your plumber will likely be able to limit your time without water to just a few hours during the day. During this time, you will not be able to use your toilet, faucets, or drains. The process will take anywhere from a couple of days to up to a week or more, depending on the extent of the piping that needs to be replaced. If you're doing a full system repiping, you may want to make arrangements to stay somewhere else while the work is being done.
A final plumbing test will be performed and your drywall will then be replaced.
Once repiping is completed, your specialist will perform one last inspection to ensure your new pipes are working properly and test for leaks. After everything checks out, they will repair and repaint any drywall that was removed. They may also bring in or refer you to a third party for drywall repair, depending on their services.
Leak detection is not our only specialty here at Inland Empire. We are also the repiping contractor of choice for countless homeowners in the Riverside, CA area! Before we begin your repairs, our specialists will give you a quote and go over everything you can expect throughout the repiping process.
For free leak detection, repiping, and other plumbing services, call Inland Empire Leak Detection at 951-442-5339 today!